About Arts
Since 1986, the Arts Department at WKCR has been bringing listeners topical information about cultural events in the New York City area via interviews with artists. WKCR represents all art forms, from film and literature to theatre and the visual arts. As of March 2006, listeners have had the opportunity to learn more about the arts in New York City almost every night after 9 pm. The department has a rich tradition of quality, eye-opening programming and will keep striving to expose our listeners to underappreciated talent.
Our Programs
Studio A and Art Waves feature hour long, in-depth educational experiences on one topic. While one or more artists may be invited as guests, the evening's conversation revolves around a single work of art or a single artist. Arts and Answers, the latest addition to Arts programming, broadcasts in half-hour segments with one or more artists discussing a single work of art. Arts programming may also includes recordings of important readings by artists and writers.
ART WAVES, 9:00 pm - 10:00 pm
Friday, January 18, 2012
Max Ferguson joins us to discuss his strikingly realistic oil paintings, which primarily feature solitary subjects within quiet pockets of a pre-Starbucks New York City. Mr. Ferguson's work champions humdrum moments – like his father eating a sandwich at Katz's, a clockmaker smoking a pipe, or the owner of a tuxedo shop fitting a client – often preserving both subjects who have since passed away and shops that have since vanished. His work can be viewed at the Gallery Henoch in Chelsea, NY or on his website.
Hosted by Mahima Chablani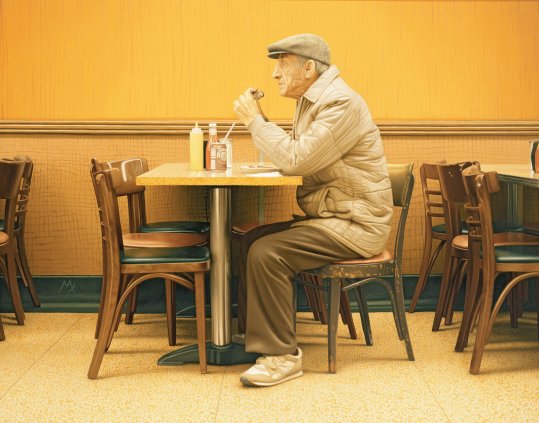 Friday, October 26, 2012
A discussion with director Kim Cummings on her first feature film, In Montauk. Nina Kaczorowski, the film's lead, joins us for the second half of the interview via phone. The film follows Kaczorowski, who plays a pregnant photographer, as she captures the beautiful, though desolate winter landscape of Montauk, NY through her camera lens. While she prepares for her upcoming gallery show, she is forced to examine her relationships with her husband, a music composer living next door, and the baby inside her. The film has won several awards to date, including Best Director at the Toronto Independent Film Festial and Best Actress in a Feature Film at the World Music and Independent Film Festival.
Hosted by Mahima Chablani
Friday, September 21, 2012
Director Sarovar Banka and actors Adam Laupus and Diksha Basu join us to discuss Banka's first feature film, A Decent Arrangement. The film follows Ashok, an Indian-American copywriter (played by Adam Laupus) who willfully journeys to India in search of an arranged marraige. Equipped with a hefty binder full of "biodatas" – or resumes – of potential brides, he meets with several suitors, the most promising one played by Diksha Basu. The interview examines the experience of shooting in Chandigarh, Banka's creative process, and the three artists' upcoming projects.
Hosted by Mahima Chablani
Friday, June 22, 2012
Two back to back interviews on films featured in this year's Human Rights Watch Film Festival:
An interview with director Mai Iskander about her documentary Words of Witness, a poignant portrayal of a young, idealistic, politically engaged female journalist in Egypt during and after the 2011 Egyptian Revolution.
An interview with director Kirby Dick and producer Amy Ziering about their documentary: the Invisible War, a powerful and disturbing exposé of the rape epidemic in the US miliary. Ths film won multiple awards as well as instilled concrete policy changes in the deeply flawed prosecution system in the US military.
Both films are taking part in the Human Rights Watch Film festival, which is running from 6/14 to 6/28 at the Walter Reade Theater at Lincoln Center.
The full schedule can be found here:
Hosted by Xueli Wang
Friday, May 4, 2012
A two-part interview about the film ELLES, directed by Małgorzata Szumowska, starring Juliette Binoche, Joanna Kulig and Anaïs Demoustier. In the film, Juliette Binoche plays a Parisian journalist who interviews two girls about their experience as student prostitutes. Rather than a didactic, black and white issue film, ELLES uses the subject of college prostitution as the jumping off point for a greater examination of bourgeois society at large, pointing to the inherent hypocrisy in bourgeois morality, as well as the instability, volatility and conflicting notions of female sexuality within it.
Part I is a short phone interview with the director, discussing the film's thematic elements as well as its creative process.
Part II is a longer interview with the Polish actress Joanna Kulig, who discusses her character Alicja (one of the two student prostitutes interviewed) and her experience playing the role.
ELLES premiered at the Tribeca film festival and is now open in select theaters in New York.
Hosted by Xueli Wang.
Friday, March 23, 2012
A phone interview with Montreal based filmmaker Mathieu Roy, to discuss his upcoming documentary "Surviving Progress." An epic documentary co-directed by Mathieu Roy and Harold Crooks, "Surviving Progress" challenges the modern notion of progress as technological, economic and population expansion. "Surviving Progress" presents the concept of "progress traps"--when there is too much progress, an excess of material wealth that inevitably leads to the depletion of natural resources and the exhaustion of physical human capacities. Some specific issues covered in the film include the industrial and economic boom in China as well as the deforestation of the rainforests in Brazil. Surviving Progress opens in New York on April 6th, with a national rollout beginning April 20th.
Hosted by Xueli Wang.
Friday, March 9, 2012
Art Waves is pleased to air a recording of I, Too, Sing America: Music in the Life of Langston Hughes. Hosted by Terrance McKnight, WQXR host and former Morehouse professor of music, I, Too, Sing America will dive into the songs, cantatas, musicals and librettos that flowed from Hughes' pen. As he did with his poetry, Hughes used music to denounce war, combat segregation and restore human dignity in the face of Jim Crow. The documentary will include recordings of select pieces of Hughes' musical works, some of which were never performed again in their entirety after their original production. It will also feature archival interview tape of William Grant Still discussing Troubled Island.
Hosted by Emily Kwong.
Friday, Februrary 10, 2012
A discussion with the French writer, professor and curator Guy Sorman, about the exhibit "the Silent Strength of Liu Xia," a collection of 25 photographs by the Chinese artist Liu Xia. Liu Xia is currently under house arrest in China for being associated with the politically subversive activities of her husband and 2010 Nobel Peace Prize winner, Liu Xiaobo. In the interview, Guy Sorman discusses the political and cultural landscape in mainland China, the underground artistic movements there and the role of cultural production in creating a real impetus for political reform.
"The Silent Strength of Liu Xia" features a collection of 25 black -and-white photographs, produced by Liu Xia while under house arrest in Beijing, between 1996-9. This exhibition is on view at the Italian Academy on 118th and Amsterdam until March 1st.
Hosted by Xueli Wang.
STUDIO A, 9:00pm - 10:00 pm
Sunday, January 6, 2013
This program features a scientist, musician, and comedian, all deeply influenced by psychonaut, futurist, and renegade philosopher Terrance McKenna. Dennis McKenna is an ethno-pharmacologist who just published a biography of his brother entitled Brotherhood of the Screaming Abyss. Comedian Greg Barris is a staple in New York's downtown stand-up scene and is the creator of Heart of Darkness: a psychedelic showcase of comedy, live music ,and fringe scientists. Sound mystic Alexandre Tannous is a composer, ethnomusicologist, and pioneer of sound meditation.
Hosted by David Ellenbogen
Sunday, October 7, 2012
An interview with the Birdman, aka James Cataldi, a math savant who quit Wall Street when he found his calling: to clean an illegal dump on Manhattan's North Cove. For years he cleaned this toxic area along the Harlem River by hand, transforming it into a wildlife sanctuary. After a movie about him went viral, he was awarded the highest honors by the EPA. Author Dan Friedland will also join us to discuss his new novel Down Aisle Ten.
Hosted by David Ellenbogen
Sunday, September 9, 2012
A reading and discussion with poet Alan Gilbert on his debut collection, Late in the Antenna Fields, which "threads desire and loss, image and consumption, memory and hope through a dystopian landscape of war, ecological disaster, and the ruins of empire (SPD Books)." The interview is complete with Spaceape and apocalyptic conjecture.
Hosted by Anne Fiero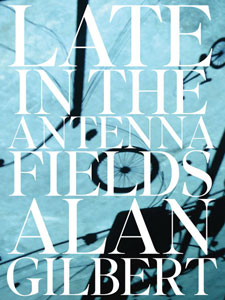 Sunday, August 5, 2012
An interview with David Ippolito, affectionally nicknamed "That Guitar Man from Central Park." Mr. Ippolito has been strumming his six-string at "The Hill" in Central Park nearly every summer Saturday since 1992. He has self-released 8 albums and is currently working on a musical entitled Possibility Junkie. David plays several original songs during the interview, which examines his remarkable story and songwriting process.
Hosted by Mahima Chablani
Sunday, April 8, 2012
Poet Tracy K Smith joins host Anne Fiero to read from and discuss her latest book, Life On Mars, with its themes of loss, beauty, glam rock and the mysteries of death and conception.
Hosted by Anne Fiero
Sunday, March 25, 2012
An interview with Ruth Sergel, director of Street Pictures, a New York City-based public art initiative. Among other things, she is a documentary filmmaker and oral historian who founded the "Voices of 9.11" project, which recorded over 550 interviews in NYC, Shanksville, PA, and the Pentagon and was put up online for the 10th anniversary in 2011. Ruth Sergel is also the founder of the Remember the Triangle Fire Coalition. This interview will focus on her project entitled "Chalk," an annual commemoration of the victims of the Triangle Shirtwaist Factory Fire which occurred in Lower Manhattan on March 25, 1911. On this 101st anniversary of the fire, Sergel will discuss this public art project, in which the names (and occasionally short bios) of each of the 146 victims are written in front of their (historic) homes. For more information about the project, visit the website:
http://streetpictures.org/chalk/
Hosted by Shady Grove Oliver.
Sunday, March 11, 2012
An audio collage of music, poetry and fiction by Latin American writers with a special focus on the Spanish MFA Program that was recently begun at New York University. Writers include Lila Zemborain, Valerie Mejer, Gabriel Amor and Mireya Perez. There will also be a discussion with faculty from the the MFA Program including director Sylvia Molloy and professors Mariela Dreyfus and Lila Zemborain.
Hosted by Anne Fiero.
Sunday, February 12, 2012
An interview with Shane Jones, author of the debut novel Light Boxes, a fantasia about war waged by a group of balloonists against the seemingly endless month of February.
Hosted by Anne Fiero.
Sunday, February 5, 2012
An interview with Austrian director Markus Schleinzer discussing his directorial debute "Michael." Mr. Schleinzer worked as a casting director for over 60 films, including Michael Haneke's "The Piano Teacher" and "The White Ribbon." "Michael" follows the story of Michael, an Austrian office worker in the last few months of his life. It will be playing at Film Forum February 15-February 28.
Hosted by Xueli Wang.
ARTS & ANSWERS: 9:30 pm - 10:00 pm
Monday, March 11, 2013
Justine Blau joins us to discuss her new memoir "Scattered." The memoir follows Blau during her childhood and preteen years, as she weaves through apartments and hotels in Manhattan with her chronically homeless family and bipolar mother. From sleeping in a movie theater to stealing a fur coat, the moments in this memoir are both colorful and deeply tragic.
Hosted by Mahima Chablani.
Thursday, January 24, 2013
A conversation with French-Romanian actress Simona Maicanescu about The Fever, a 90-minute monologue written by maverick playwright and actor Wallace Shawn. The Fever is a fierce, forensic examination of social inequality, linking Western affluence and privilege to the squalor and suffering of millions living beneath global poverty lines. Running for a two-week American debut at La MaMa's first-floor theater – January 24 to February 3rd – this French production (performed in English) is an adaptation by Maicanescu and Norén, drawing both from Shawn's original text and his 2007 rewrite. For more information, visit La Mama's website.
Hosted by Emily Kwong
Thursday, November 29, 2012
Director and screenwriter Marshall Lewy joins us via phone to discuss his second feature film California Solo. Starring Robert Carlyle, the film follows a former British rock star who spends his days working on a farm out of L.A., hosting a podcast, and throwing back shots. A DUI charge ruptures his humdrum routine and forces him to confront his legendary past, relationships with family members, and his immigration status.

Hosted by Mahima Chablani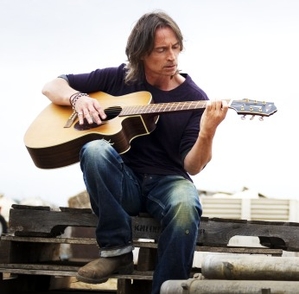 Thursday, November 15, 2012
Architect John Locke discusses his latest "Parasite Book Share" project, through which he has installed mini libraries in telephone booths throughout the Upper West Side. Locke elaborates on his motivation for pairing payphones with books – both of which are obsolete and evoke nostalgia – and dips into his interest in breathing new life into wasted urban space.
Hosted by Mahima Chablani
Monday, November 12, 2012
Isabel Castro's documentary Crossing Over tells the story of three Mexican transgender women who immigrate to the U.S. to escape a lifetime of sexual and mental abuse. Each year, thousands of Mexican nationals immigrate illegally to Los Angeles in hopes of building a better life. Leading undocumented lives, many are unaware that they are eligible for political asylum and thus turn to the sex industry. In the interview, Castro discusses the politics of transgenderism – specifically in relation to the Latina immigrant community – and how she came upon this project.
Hosted by Elisa Wouk Almino
Thursday, October 25, 2012
An interview with Panamanian photographer Sofia Verzbolovskis on her recent exhibit "Diablos Rojos: Fin de una era" at the Alexis Grady Gallery. No longer the central form of transportation in Panama City, hundreds of "diablos rojos" (which resemble school buses) now sit uselessly in junkyards. Verzbolovskis' photographs honor the history of these buses and document their exteriors, which teem with colors, mystical images and landscapes, and Panamanian sayings.
Hosted by Elisa Wouk Almino
Thursday, June 28, 2012
An interview with spoken word poet and high school teacher Adam Falkner. We will discuss his transition from aspiring hip hop artist to performance poet as well as questions of racial identity in his art and his classroom. We'll also hear him read and talk about both "The Whitest Thing" and "The War in Baltimore." For more information on Adam's work, please visit adamfalknerarts.com.
Hosted by Diana Guyton
Monday, June 25, 2012
An interview with artist Neil Goldberg on his exhibit "Stories the City Tells Itself," which was recently on display at the Museum of the City of New York. Classified as "contemporary video art," the exhibit captured the beauty of ordinary NYC moments, like shopkeepers opening up their gates in the morning and the elbows of truck-drivers sticking out of windows. The interview examines Mr. Goldberg's penchant for street photography, his creative process, his love for the subway, and his upcoming projects.
Hosted by Mahima Chablani
Monday, May 7, 2012
An interview with artist and activist Leina Bocar. Leina is a member of Radical Arts, an assemblage of artists from the larger Arts and Labor working group within Occupy Wall Street's Arts & Culture community. Radical Arts is responsible for making many of the largest fabric banners featured in OWS events, including at the May Day rally held last Tuesday. We will be discussing the intersections of art and activism, and the place of art specifically within modern movements such as OWS. For more information or to see pictures of Radical Arts' work, visit artsandlabor.org. For more information about Leina's mixed media work, go to leinabocar.com
Hosted by Shady Grove Oliver
Tuesday, April 24, 2012
A discussion of Nathan Trice's latest creation, Strange Love, an abstract multi-media work exploring courtship, intimacy, and love. Accompanied by a live jazz trio, the work combines theatrical dance, movement monologues, video-projection and photography with dancers/singers performing vocal renditions of John Coltrane and Mile Davis' music. It will be exhibited at FreeCandy, a new arts space in Brooklyn which will host a a residency with the company for seven-month engagement. Strange Love: EPISODES is a monthly multi-media installation performance series premiering one weekend a month beginning this Saturday, April 28 with the official launch and will continue once a month through November 2012. This residency will allow the company to develop a multitude of installments that explores courtship, intimacy and love.

The Launch Party and Preview of Strange Love is at FreeCandy - located at Atlantic and St James in Brooklyn this Saturday night, April 28th.
Hosted by Chaim Lazaros

Tuesday, March 20, 2012
Arts and Answers is pleased to interview Arthur Yorinks, an award-winning writer and director for opera, theater, dance, film and the author of over thirty books. Compelled by the use of sound in theater, Mr. Yorinks has spent nearly four decades experimenting with the relationship between audio and live performance. He will be discussing the process of adapting literary works - from authors as diverse as Stoppard, Kafka, Gogol, and Dickens - for rÝcadio and the narrative force of sound in works of audio theater.
Hosted by Emily Kwong
Tuesday, February 7, 2012

In honor of Chinese New Year, the following performance is a marriage of Chinese and New York musical sensibilities recorded at WNYC's The Green Space on January 27th. Hosted by David Garland and featured composer Huang Ruo, Written on the Wind features premieres from New York and China-based composers performed on traditional Chinese and western instruments. The evening unfolded into a larger conversation of how place and tradition shape a composer's style. Please visit The Greene Space for a full webcast of this performance: http://www.thegreenespace.org/events/thegreenespace/2012/jan/27/written-wind-new-music-china-and-new-york/
Hosted by Emily Kwong
Monday, February 6, 2012
An interview with Olga Kopenkina, curator of Sound of Silence: Art During Dictatorship, the first exhibition in New York City to highlight contemporary Belarusian artists working in solidarity with the popular protest movements--the most recent of which took place in 2011. The exhibit features the paintings, videos, installations, posters, and photographs of nine of these artists and art collectives. Sound of Silence is on view at the Elizabeth Foundation for the Arts Project Space from January 27 - March 2012: http://www.efanyc.org/sounds-of-silence/
Hosted by Shady Grove Oliver
Programs
Monday 9:30-10pm
Tuesday 9:30-10pm
Thursday 9:30-10pm
A thirty minute conversation with one or more artists that discusses a single work of art.
© 2009-2011 WKCR | Columbia University NY 10027 | Studio 212-854-9920 |
board@wkcr.org
Welcome to the new home of WKCR. Thank you for being patient as we continue to develop parts of the site.